Alee Peoples
Regular price
$150.00 USD
Regular price
Sale price
$150.00 USD
Unit price
per
Sale
Sold out
Silkscreen Monoprint 
onto an Archival InkJet print 
on 21mil Epson Cold Press Bright paper 
22" x 17" 
Edition of 25 plus 4 A.P.'s 
2023 
Insert Press is excited to release a new print edition, Caroline's Jeans, by Alee Peoples in an edition of 25 plus 4 A.P.'s. Released to accompany Peoples' exhibition Hello My Friend at General Projects from March 24 to June 2, 2023, Caroline's Jeans, 2023, is a silkscreen monoprint onto an Archival InkJet print on 21mil Epson Cold Press Bright paper, 22" x 17". 
Insert Press is also pleased to announce the publication of Hello My Friend, an exhibition catalogue of Peoples' show at General Projects from March 24 to June 2, 2023 including an essay by Ekrem Serdar and full documentation of the show. 
Browse other available works from the exhibition Here.  
Alee Peoples is an innovative multimedia artist whose work explores the intersections of text, pattern, and visual communication. Her work is like a Rubik's Cube, deceptively simple and fascinating. Shooting Super8 and 16mm in her film work and using repurposed fabric and materials in her textile work, Peoples transforms everyday objects into unique, abstract narratives that explore the absurdities and banalities of our contemporary imagination. Elements of a cosmic aesthetic run throughout her work, bringing her handcrafted look to life. Her work engages in a fierce form of play, grappling with meaning instead of grasping for it. 
Monoprint editions vary and will not match the product image exactly.
Prints ship flat-packed in a clear 2 mil bag with pH neutral backing board by USPS or UPS.
Artworks packed and readied for shipment in-house by professional art shippers.
Please feel free to contact us in advance with questions about shipping and handling. 
All Sales are Final - No Refunds or Exchanges
View full details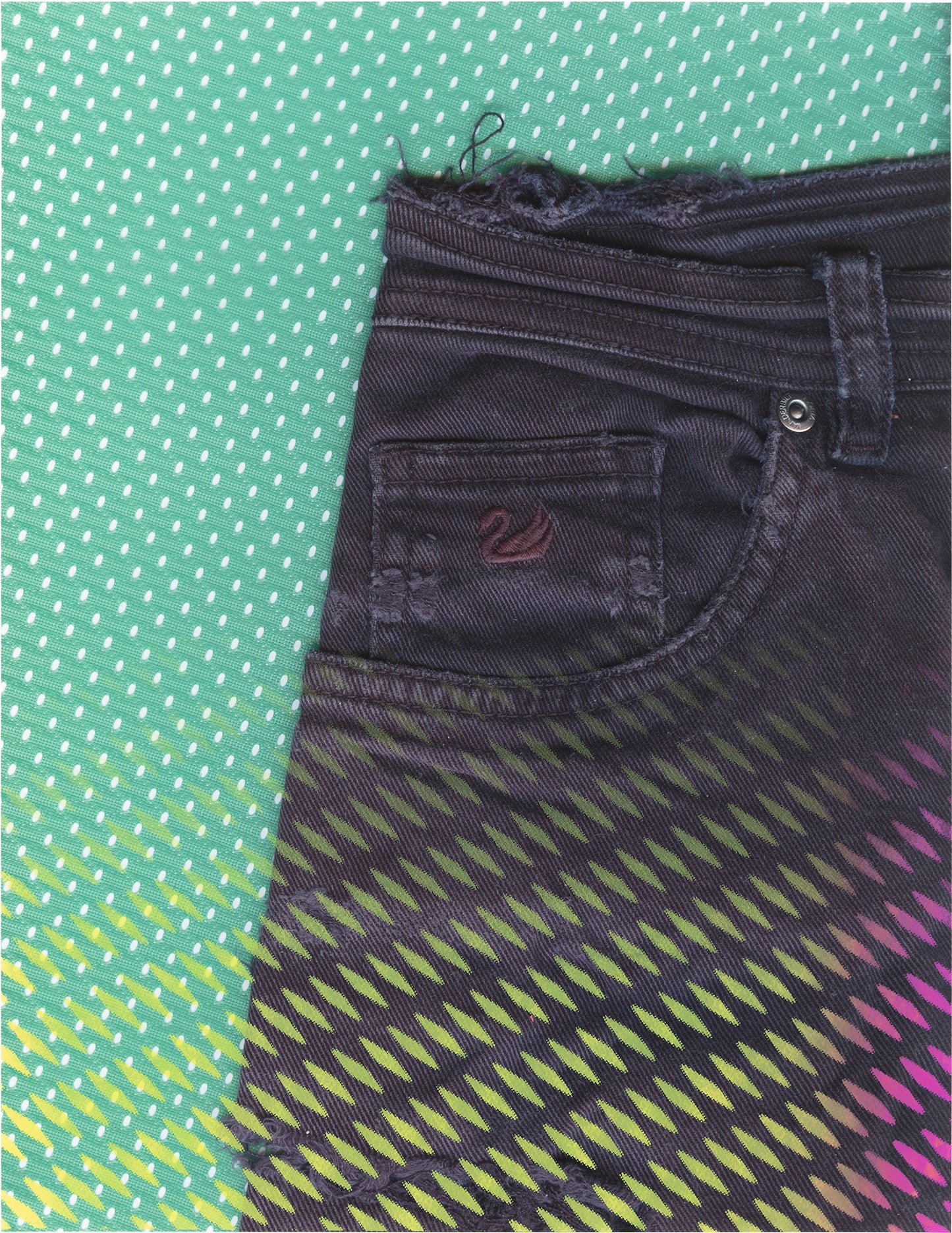 Translation missing: en.Alee Peoples
Alee Peoples maintains a varied artistic practice that involves screen-printing, sewing, sculpture and film. Currently living in Los Angeles, she has taught youth classes at Echo Park Film Center and shown her sculpture and film work at GAIT, 4th Wall and elephant. Peoples has shown her films at numerous festivals including Edinburgh, Images (Toronto) and New York Film Festival, and at museums and spaces including SFMoMA, Brooklyn Museum of Art, The Pompidou Center, Dirt Palace (Providence) and The Nightingale (Chicago). Started in 2022, Arroyo Seco Cine Club is a thematically programmed film series she co-currates with Mike Stoltz. She is inspired by pedestrian histories, pop song lyrics and invested in the hand-made.